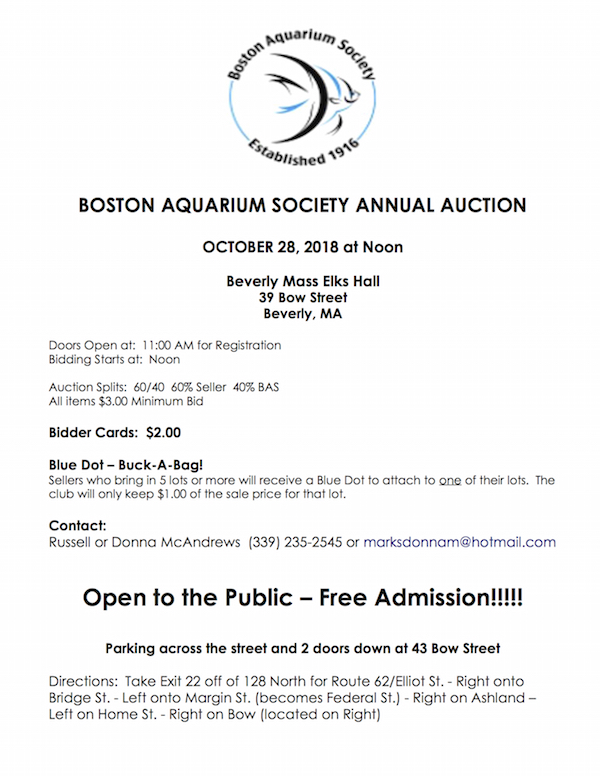 BOSTON AQUARIUM SOCIETY ANNUAL
AUCTION OCTOBER 28, 2018 AT 11AM
Beverly/Salem Massachusetts
Lodge of Elks
39 Bow Street Beverly, MA 01915
(978) 922-9608
Thank you to the Beverly Elks for Hosting us again this year.
-
ADDITIONAL INFORMATION

Any vendor who sold at last year's auction will receive two free bump stickers to put on any items; as an apology for last year's technical difficulties.



- The Beverly Elks Hall is within walking distance of the Beverly Depot MBTA Commuter Rail station should anyone wish to get there via public transportation. Beverly Depot is served by all trains on the Newburyport Line and the Rockport Line.
Auction Policy
1. Live fish and aquatic invertebrates, aquatic plants and aquarium related materials only!
2. There is a limit of 3 lots per species per seller.  Any additional will be considered a BAS DONATION.
3. All fish lots must be properly double-bagged.  A fee of $2 will be charged for lots not double-bagged, leaking or otherwise requiring re-bagging.
4. SELLER MUST mark each bag with their Name, Species Name, and Quantity.  Unlabeled lots will be considered a BAS DONATION.
You can see the full Auction Policy on our Website.
Bidder cards are $2; waived for vendors.  Minimum bid of $3 for each lot.
Anyone may bump any lot to the front of the auction for $2.   Bumps will be auctioned after Blue Dot items.
Blue Dot - Buck a Bag! Sellers who register 5 lots or more will receive a blue dot to attach to one of their lots.   BAS will only charge $1 commission on that lot AND Blue Dot items will be auctioned first at the beginning of the auction.  Limit of one blue dot per seller.
Food and Beverages will be for sale by the Elks Lodge.