-South American (mostly) planted tank-
55 gallons
1x54 watt GLO T5HO - 6700k bulb - 8hrs per day
Eheim EccoPRO 2234 filter
Fluval 204 filter
2x Stealth Heaters
Nutrients:
NO CO2
A pre-mixed liquid solution containing 1000mL distilled water, 10tbsp KNO3, 2tbsp KH2PO4, 40mL Excel (to sterilize and prevent algae growth in the bottle). I dose 5mL per week.
I also alternate between Seachem Flourish and GLA GH Booster once weekly for trace and GH.
Occasional fert tabs from Aquariumplant.com
Excel ONLY when needed to boost growth or kill algae
Animals:
20 Cardinal Tetra (from Jim)
4 Bleeding Heart Tetra (from Jim)
1m, 1f Apisto Viejita (from Ned's)
2m, 3f Apisto Agassizii (from Jim)
6 Pymgy Cory (from Petco...they were $1 each)
3 Ancistrus sp. (had these for years...forget where I got them)
1 SAE (the only fish not south american, given by Strelok on this forum)
6? Mystery Snails of assorted color (from Jane)
Plants:
3x Green Ozelot sword
4x Red lotus (from 1 bare bulb)
1x Crypt wendtii
E. tenellus
Sag. subulata
Rotala indica
Hygro. difformis
Hygro. 'angustifolia'
Eleo. acicularis
Microsorum pteropus 'Windelov'
Val. sp. (got it by accident...don't know what kind)
Java moss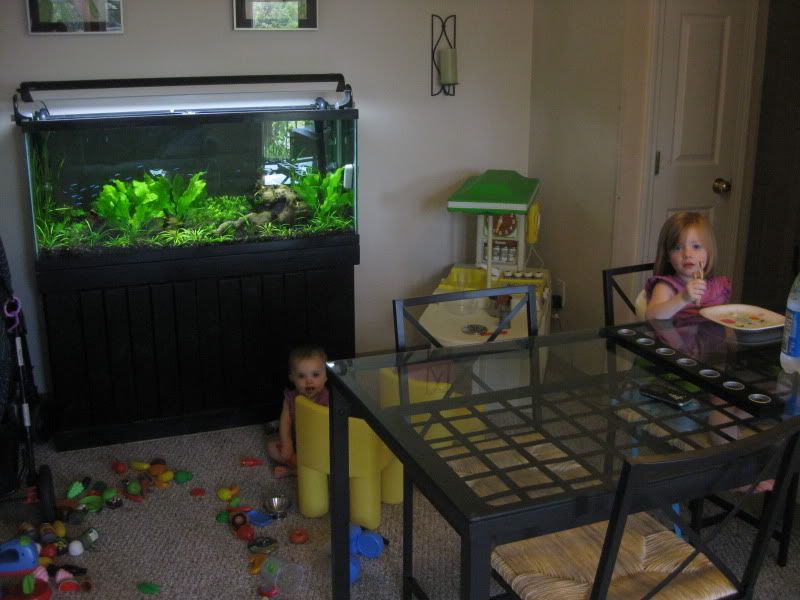 -Asian tank-
25 gallons
2x14 watt Coralife T5NO - photoperiod is whatever I happen to turn it on for...
Aqueon 20 filter
AGA heater
Nutrients:
Occasional dosing of Flourish or aforementioned pre-mix
Fish:
1x Opaline Gourami (from Petsmart)
3x Botia kubotai (from Falmouth Pet)
1x Botia almorhae (from BAS auction 3 or 4 months ago)
1x SAE (from Lovely Pets)
Plants:
Lace Water Sprite (thats it)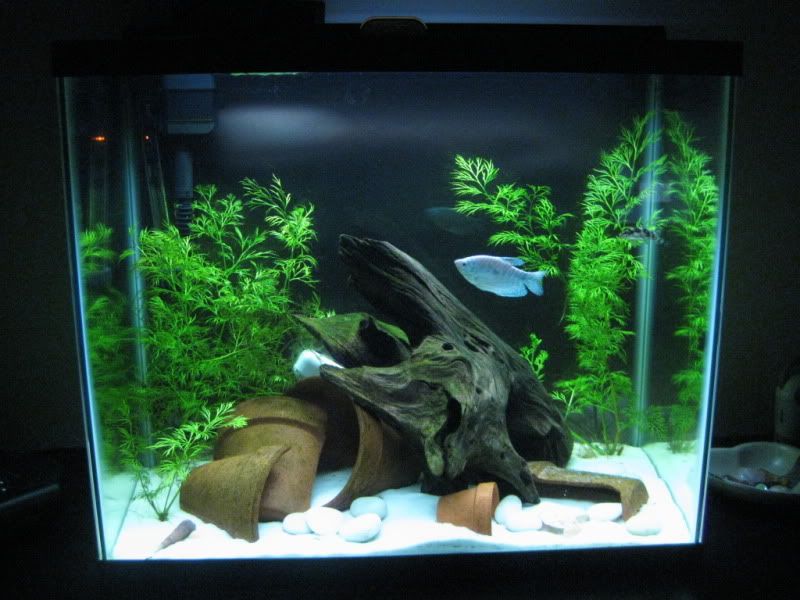 -El Natural style tank-
10 gallons
Nutrients:
Soil underlayer with gravel on top
occasional Flourish
Fish:
1 Honey Gourami (from Petsmart)
6 Boraras maculatus (from Ned's)
12+ Tiger Endlers (from Jane)
Plants:
1x Red Ozelot Sword
1x Red lotus
Hygro. difformis
Hygro. angustifolia
E. tenellus
Sag. subulata
Crypt. Wendtii
unknown piece of floating plant that came with Jane's snails