November 27th 2023 Monthly Meeting: Annual Auction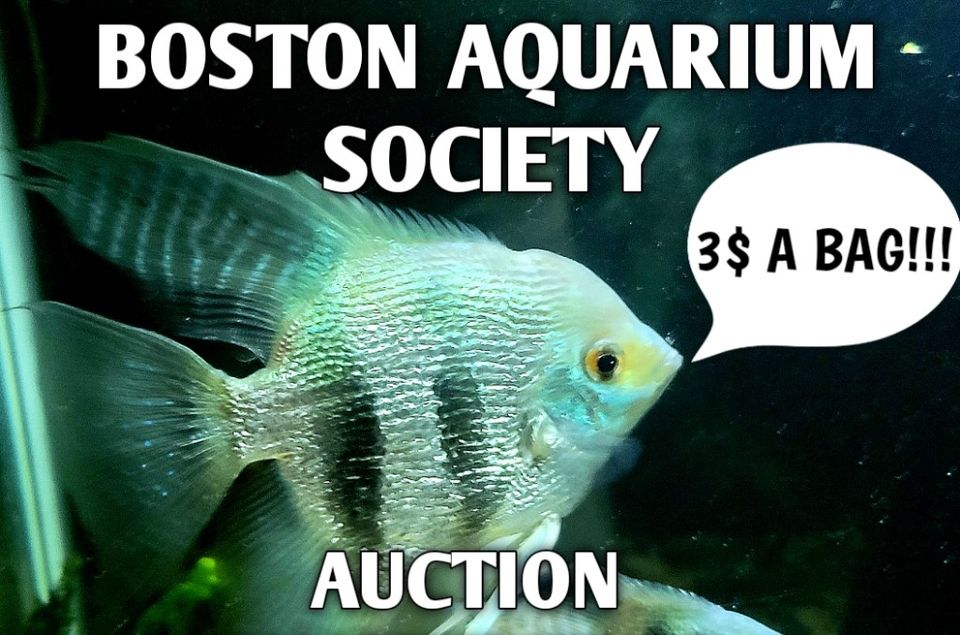 Our next monthly meeting will be Monday, November 27, 2023. NOTE Change in meeting DATE!
We will be having our annual auction at this meeting.
Registration starts 7:30pm.  Auction will start 8:00pm.
All lots sold the first $3 will go to the club and the rest to the seller.
For time constraint purposes, there is a limit of TEN (10) items TOTAL per seller, ONE(1) of which may be a dry good item. All other lots must be a livestock item (fish, snails, shrimp, etc).
The Auction must end by 10:00pm, due to our time limit for our meeting space, where we are graciously hosted by the NEAq.
Although we will make every effort to move quickly to sell every item, we cannot guarantee that all items will be auctioned. Items not auctioned or sold will be available for the seller to reclaim at no fee. (We have never had to do this, but it could happen)

Here is a partial list of plant species from the Florida Aquatic Nurseries Donation:
There are multiples of many of the plants!
 RETROSPIRALIS MD (Cryptocoryne retrospiralis)
CRYPT USTERIANA MD (Cryptocoryne usteriana)
BABY TEARS MAT (Hemianthus callitricho)
HYDROCOTYLE SP JAPAN MAT (Hydrocotyle tripa)
  BARTERI var. nana 'GOLDEN' T/C IN CUP  
     BACOPA COMPACT WHITE T/C IN CUp
.    ELEOCHARIS ACICULARIS MINI T/C IN CUP
.    HELANTHIUM TENELLUS T/C IN CUP (Helanthium
.    PALT ALTLANDSBERG POT (Echinodorus 'Altlandsberg')
.    PAMAL AMAZON SWORD LG POT (Echinodorus bleheri)
.     PFRSTL FRANS STOFFELS LG (Echinodorus 'FransStoffels
    KLEINER BAR POT (Echinodorus 'Kleiner Bar')
.   POZEL OZELOT SWORD LG POT (Echinodorus 'Ozelot')
      PRAD RADICAN SWORD POT (Echinodorus cordifolius)
   PRAMA MARBLE QUEEN POT (Echinodorus cordifolius
   'TroPREFL RED FLAME SWORD POT(Echinodorus 'Red Flame)
    PANBARO BARTERI V. ROUND LEAF POT (Anubias barteri)
    PANFR FRAZERI POT (Anubias 'Frazeri') PANNA NANA POT
 (Anubias barteri var. nanaPANNANL NARROW LEAF NANA
.  (Anubias barteri var. PANNANC NANCON POT (Anubias 'Nancon')
.    Bronze Wendtii
.  Moneywort pot
.    Staurogyne repens
.     Amazon mother pot
.    Frazeri mother pot
November 2023 – OPEN  Photo Competition
Please feel free to bring in some refreshments.
Attendees may begin arriving at 7:30PM.  BAS Secretary Donna will greet you at the door. If you are driving, street meters are free after 8PM.   Paid parking is available nearby in the Boston Harbor Garage.  If you are taking the MBTA, take the Blue line to Aquarium.
Anyone wishing to stay in touch with us:  Email BAS Secretary & Membership Chair Donna McAndrews (marksdonnam@hotmail.com).
She will put you on our Guest Membership List.  You will receive reminders of our yearly NEAq Tour, Quarterly Breeder Auctions, Yearly Auction and Monthly Speakers.
Our Website Link is:  (https://bostonaquariumsociety.org)